37-39 St Andrew Square has been an incredibly exciting project for City Access. The building itself, is a piece of Edinburgh's architectural history.
A temporary roof was required to protect external and internal historical listed features.
The scaffolding had to be designed to allow critical basement works to progress. We provided a designed truss out scaffold solution which was supported off the existing building at high level to allow the temporary roof to be erected early on.
The scaffold solution included a large, bespoke bird cage platform to allow the sensitive restoration of both the ornate plastering and the gold gilding to be completed.
Another key area was for City Access to provide access solutions to the six ornate statues to aid careful works to allow the restoration to be carried out
The building of 1815–17 is all that remains of Calton Jail, once the largest prison in Scotland. It was designed by Archibald Elliot who was also responsible for the nearby Waterloo Place and Regent Arch. The House contained the Committee Room used by the Commissioners who governed the prison.
Its castellated and turreted form is similar to James Craig's Old Observatory House on Calton Hill, but its design was more likely influenced by Robert Adam's older 'Bridewell' of 1791, which stood alongside the newer prison. The jail closed in 1927 and, except for the Governor's House, was demolished in 1937 to make way for St Andrew's House.
Until recently the building housed the Scottish Government's multimedia team and for a time was considered as a possible official home for Scotland's First Minister, replacing the National Trust for Scotland owned Bute House.
In 2018 we designed  and built a splayed access on the rock face over looking Edinburgh's Waverley Station to allow repointing and window repairs.
There were many challenging aspects to this project including restricted access to our work area and access to the site was extremely limited for vehicles.
The Wellbeing Centre at Edinburgh's Bristo Square was an incredibly exciting project for us at City Access Scaffolding.
As a growing company we are dedicated in offering tools and a listening ear when it comes to the struggles of mental health.
The development of The Wellbeing Centre is a great example of the University's commitment to delivering excellent wellbeing services. It will put student wellbeing at the heart of the University's city centre campus, making it easier for students that need help to access support, and expanding the range of spaces and services on offer.
The centre will provide students with an expanded range of essential services as the University's Student Counselling and Disability Services, both currently located in the Main Library, will be brought together with the medical practice and pharmacy for the first time.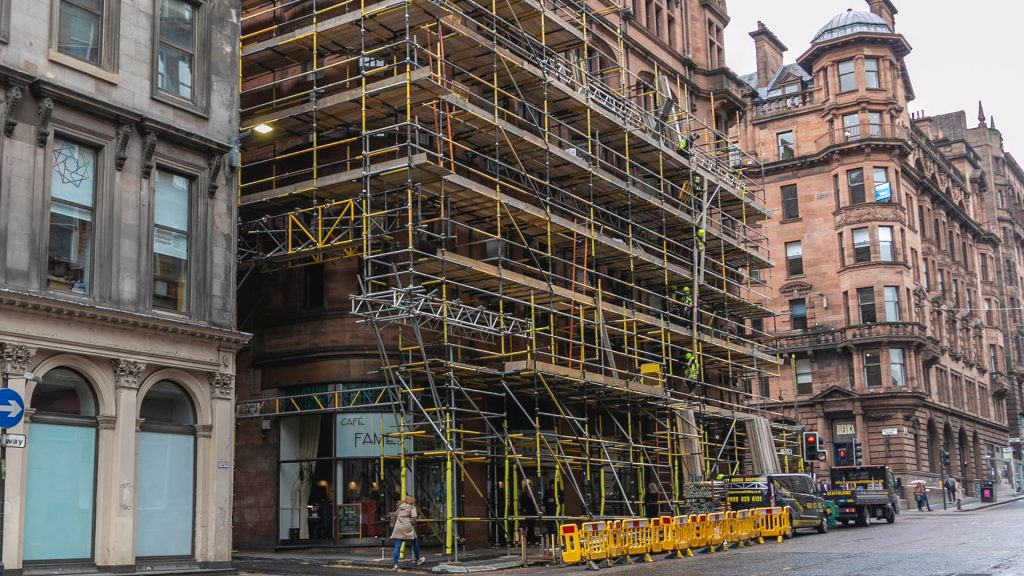 Caithness House, Hope Street/St Vincent Lane/St Vincent Street, Glasgow.

City Access were on site to allow our client to access all building facade and roof for repairs.

Careful consideration had to be made for the public due to the city centre location. Our start times were 6am in the morning to avoid public footfall.

Material was dropped off on an out of hours service to avoid disruption.

The lane elevation had restricted width, bespoke design allowed for the scaffolding to maintain vehicle width.

Our employees used handheld radios to effectively communicate up and down the scaffold to avoid noise disrupting local businesses. ⠀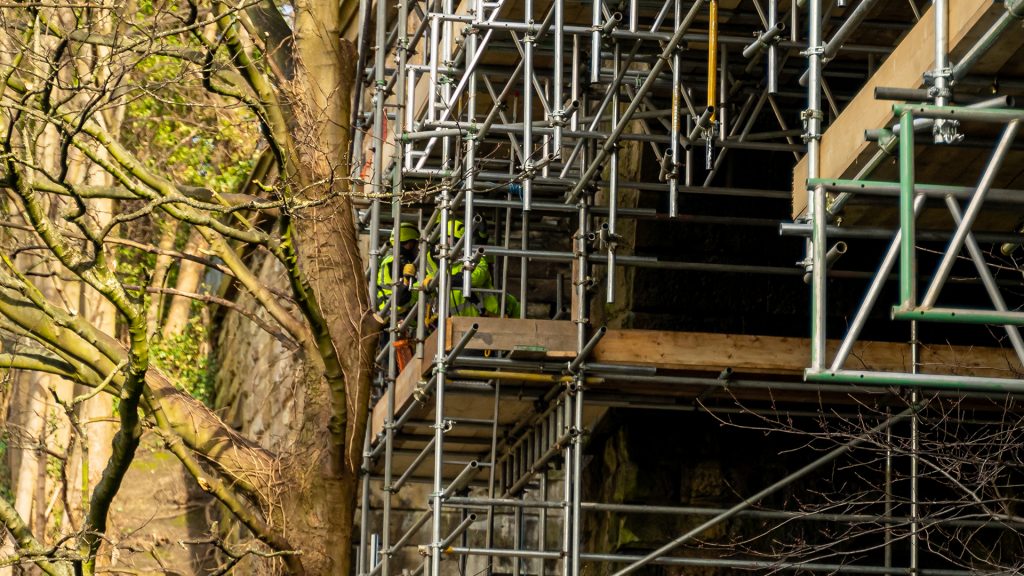 Refurbishment of Coltbridge Viaduct
City Access Scaffolding works involved providing a designed scaffolding cantilever drop solution to gain access to stone areas on sides and arches underside with shrink wrap  to external faces.
This project was one of our more challenging jobs. The team battled the February storms, material deliveries were restricted in size due to access constraints, public footpaths above and below had to remain open so works involved creating an enclosed walkway and a traffic management system to be put in place. Finding a work flow could be tricky when the team were stop/starting to allow the public through.
This job was a great opportunity for our apprentices to learn complex tube & fitting while under supervision. This was a priceless piece of learning which will strengthen our future scaffolders.
Scaffolding access to aid external stone repairs on Bishop Lane, Glasgow.
The building's stone facade requires urgent repairs, this meant we were unable to anchor to the external of the building.
The scaffold was designed to have internal anchored towers behind windows. These were erected between floor and ceilings so our squad could tie through to them.
It was tight inside but the team worked incredibly well.
We were asked to return to the Scottish Government's St Andrews House building after completing multiple projects to deliver its most restricted area access to date.

Our client, Mpact Group, required access to the South Boundary Wall overlooking Edinburgh's Waverley Train Station. The wall is located on a bedrock cliff face with minimal footing for the scaffold so our team used the same method as on Governor's House of a designed anchored tie/support detail at base of scaffold. We also used a slung/hanger system where the footing was non existent.

The scaffold was splayed in most areas of the 157m long wall and we erected a small roof system while shrink wrapping the external face to shelter from the wintry Scottish elements to ensure clients works were unhindered.
The University of Edinburgh
Reactive works
Many of our clients deal with reactive works, responding to emergencies and/or essential maintenance. It's important that we have a response plan in place to communicate with our client (and staff) to ensure their needs are fully met whilst completing the job quickly and effectively
Over the last year our client has required a large number of accesses in Edinburgh city centre either the same day or the following day as communicating their requirements.


City Access are delighted to assist.
St Andrew's House is an impressive building with a grand facade.  St Andrew's House sits on the site of the former Calton Jail.
Various types of scaffolding access was required ranging from complex to simple towers to aid external fabric repairs.
To support our client on this project, our work included:
Erect of the scaffolding independent, with buttress, within the courtyard on the Scottish Government's St Andrews House to facilitate specialist stone/mortar repairs, glazed concrete panels removal and renewal⠀
Fully erected hanger/cantilever drop scaffold for parapet works
We are delighted to be onsite in Craigmillar, after being awarded the scaffolding package for the brand new Castlebrae High School.
This is a particularly great project to be involved in as we have members of staff who attended Castlebrae High School as young boys so to return as skilled tradesmen to work on the school for the next generation is a wonderful opportunity.
The new school will not only provide a modern learning estate for pupils and staff, but will be a fantastic asset to the community, contributing to the ongoing regeneration of the area.
Rolling Scaffold
Boroughmuir High School
Scotland's first rolling scaffold.
We erected a moveable access platform to install the steel trusses over the atrium void.
The scaffold itself covers a huge 18m across the atrium and easily moves a total of 30m by just one man.
We originally tendered for a birdcage scaffold for the total atrium (13,000m3) however our design team came up with this innovative solution which meant we saved our client build time which improved the construction program, reduced cost which in turn helped their budget and increased accessible working area within the atrium for other trades.
The moveable access platform weighed just 9 tonnes and could be operated by just one man.
Our rolling scaffold saved our client around £60,000.